This article from Nine News announces the latest government easing of restrictions – allowing cafes and restaurants to re-open for up to 10 patrons, but warns we have to keep our vigilance to keep the virus at bay.
By Gabrielle Adams • Senior Producer 12:07pm May 10, 2020
Cafes and restaurants will be allowed to re-open for up to 10 patrons and five people will be able to visit another person's home from Friday in NSW, as the state government announces an easing of coronavirus restrictions across the state.
However, Premier Gladys Berejiklian this morning said not all of the Federal Government's three-stage plan, revealed on Friday, will be implemented. Read full coverage of coronavirus here
Outdoor gatherings of up to 10 people will be allowed, the premier announced today, which is the first time since lockdown residents can leave their homes for recreational purposes.
"We're at this point in the pandemic because everybody has pulled together and done the right thing," Ms Berejiklian said."We have to keep our vigilance. Every time you leave the house, you have to assume you have the virus or somebody you're going in contact with has the virus. That is the only way we will keep this deadly virus at bay ."Just because we're easing restrictions doesn't mean the virus is less deadly or of less threat."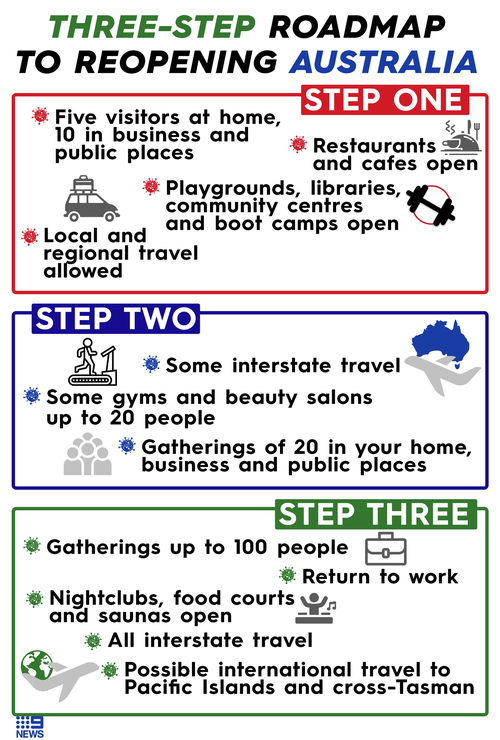 Five people will be allowed to visit other households, in one of the most anticipated restrictions to ease.
The premier said that combination "is up to you", but it includes children."A total of five people irrespective of the ages and stages of those people is there in place," Ms Berejiklian said.Currently, two adults from the same household, along with their dependent children, can visit another home in NSW under the existing COVID-19 restrictions.
Cafes and restaurants will also be allowed to have 10 patrons at a time.
"For many, they won't think that up to 10 patrons is viable for them," she said."But for those that do feel it is viable, please make sure you maintain social distancing."If it's a very small hole in the wall, you won't be able to have 10 because you need to keep the four square metre rule, you need to have the social distancing. If you're a small hole in the wall, you may have two inside and if allowed eight outside. The combination is up to you as the manager."The new relaxing of restrictions also allows 10 guests at weddings, 20 people at indoor funerals, and 30 at outdoor funerals.Religious gatherings and places of worship can also welcome up to 10 people. Outdoor equipment including gyms and playgrounds can be used with caution, with people encouraged to sanitise the equipment, and swimming in outdoor pools will be allowed.
However, travel to regional NSW is still off the table, despite Scott Morrison's Step One plan announced on Friday.
"Please acknowledge that NSW, whilst considering the advice from the National Cabinet and considering what National Cabinet endorsed, every state has to move at its own pace. We will continue to monitor the data," Ms Berejiklian said."We're not ready to ease restrictions as much as other states have. But what we will do is assure the community that so long as we keep working together, so long as we keep working hard, that we can continue to move forward."And there is a risk given the size of our population and the number of cases that we may need to go backward sometimes. I hope that's not the case."She said there will be breakouts as restrictions ease, and is urging residents not to take advantage of the changes."But can I please stress – if you're a retailer, or a customer, please make sure you keep the social distancing and the hygiene in place. We don't want to see all the good work we have done go backwards," she said.
Just two new COVID-19 cases were announced today, with more than 9500 people getting tested in the past 24 hours.
One case was from overseas, and the other was connected to a previous diagnosis. For breaking news alerts and live streams straight to your smartphone sign up to the 9News app and set notifications to on at the App Store or Google Play.You can also get up-to-date information from the Federal Government's Coronavirus Australia app, available on the App Store, Google Play and the Government's WhatsApp channel.
Original article: https://www.9news.com.au/national/coronavirus-nsw-to-ease-lockdown-restrictions-on-friday-three-stage-plan/47d87eab-eed3-40c5-984a-c9fdb4a8fe6c