Veneziano Coffee Roasters lands at Melbourne Airport
Veneziano Coffee Roasters has arrived at Melbourne Airport, Terminal 1.
FEATURES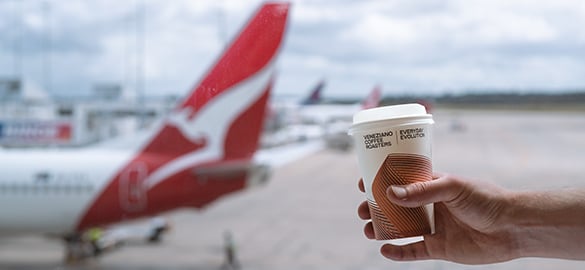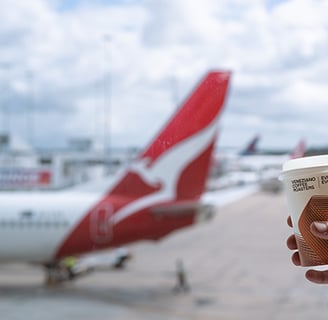 Terminal 1, home to Qantas Airlines, has undergone a significant upgrade of its retail facilities and outlets to ensure it continues to reflect the best of Victoria. Included in the upgrade is leading Melbourne specialty coffee roaster, Veneziano.
"We were thrilled to be invited to bring Veneziano to Terminal 1 at the Melbourne Airport. It's a huge opportunity for us to showcase the best in Melbourne coffee culture to the 9.2 million travellers passing through Terminal 1 each year." Says Craig Dickson, Veneziano Coffee Roasters CEO.
"We're certainly in great company with the likes of other leading coffee and dining outlets set to open in the space. It's exciting to see the airport become a place you know you can get the same dining and coffee experience that you would in the heart of Melbourne".
Veneziano, born in Melbourne, is iconic to Melbourne café culture. They have been sourcing, roasting and supplying coffee to specialty cafes for over 21 years. Their headquarters in Richmond, Melbourne boasts one of the most immersive coffee experiences in the city with the café nestled amongst the roastery, cupping lab and training studio.
"For us, bringing a slice of our home in Richmond to the airport is really special. When travellers stop by Veneziano in Terminal 1 they can expect the same amazing coffee they get in our flagship stores, plus a range of delicious meals designed by our head chef. And a little secret, grab yourself a jar of our specialty instant coffee and you'll be able to brew your own cup wherever you like – even on the plane." Says Craig.
This was made possible with a strategic and mutually beneficial partnership with SSP and of course, Melbourne Airport. This collaboration merges SSP Australia's dedication to excellence in the travel dining industry with Veneziano Coffee Roasters' expertise in crafting superior coffee.
Jonathan Robinson, CEO of SSP Asia Pacific, stated, "The addition of Veneziano Coffee Roasters to our portfolio of premium outlets in Melbourne Airport signifies our commitment to offering world-class experiences to travellers. Their reputation for exceptional coffee aligns perfectly with our mission to offer only the best to our patrons."
Jai McDermott of Melbourne Airport says, "The arrival of Veneziano in T1 is fantastic for Melbourne Airport. It's a perfect example of our vision to offer our passengers the best authentic Melbourne experiences as the first or last moment of their journey. We are proud to work with long term partners like SSP to make Melbourne Airport a unique experience in Australia.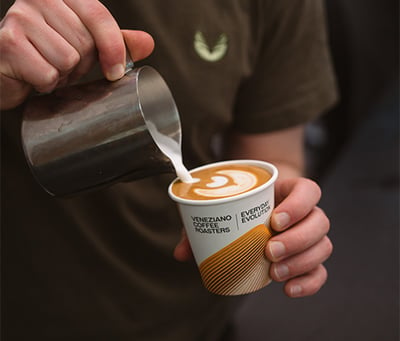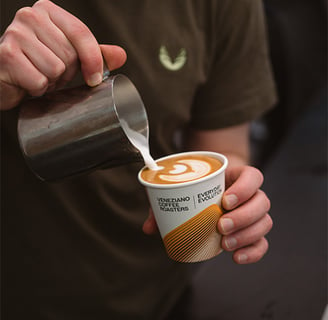 Veneziano will serve its crowd favourite Elevate blend for takeaway and dine in coffees, as well as a selection of microlots for black or filter drinkers. For those after something a little different their cold brew coffee in a can range is available in 4 flavours and espresso martinis if you need a pick-me-up before your flight.
"Creating a warm, calming space was important for us. We really wanted the site to have its own identity, but to reference iconic features in our other sites like arches, curved corners and hints of blue" said Craig. The result is a sophisticated and inviting space with a warm, organic material pallete. On the bar you'll find the usual suspects - a three-group La Marzocco Linea PB and a Mahlkönig E80S. Milk-based drinks will be prepared by the Übermilk milk frother.
"At Veneziano we're on a mission to improve everyday lives, so to have the opportunity to provide a delicious coffee in a relaxing space to travellers about to embark on their journey, is a no brainer for us".
Visit Veneziano at Melbourne Airport, Terminal 1, Air Side.
About Veneziano Coffee Roasters:
Veneziano Coffee Roasters is Australia's leading specialty coffee roaster with distribution to cafe owners nationwide and their own flagship stores in Melbourne, Sydney, Brisbane and Adelaide. For more information about Veneziano, please visit: https://venezianocoffee.com.au/